Newly Integrated Platform Makes It Simple to Manage Housekeeping Operations
LAS VEGAS, NV and SYDNEY Australia May 18 2017– OPTii Keeper, the world's leading provider of hotel housekeeping management solutions, today announced the successful integration and availability of its software through a new partnership with CMS Hospitality's GuestCentrix property management system.
GuestCentrix offers the industry's premier platform for online bookings and business analytics at hotels, hostels, and apartment complexes, maximizing revenue and enhancing overall guest experience. Now, with OPTii Keeper as part of GuestCentrix's solutions offering, clients can effectively control their housekeeping costs while significantly improving housekeeping performance.
After just a few days of using OPTii Keeper, Q1 Resort & Spa, based in Surfers Paradise, Australia, and one of the first GuestCentrix customers to adopt OPTii, realized improvements in housekeeping operations said John Wilder, the property's General Manager.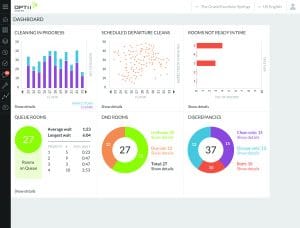 "I am very pleased we chose OPTii Solutions to streamline the housekeeping requirements for our 300 serviced apartments," Wilder said. "The system installation and the training of my management went smoothly, and our housekeeping staff have found Optii Keeper easy to use and intuitive."
Paradise Resort, Hercules Apartments, and Rhapsody Resort, three more fine properties and existing GuestCentrix clients,  have also deployed OPTii through the new strategic partnership, quickly demonstrating the value of the integrated solution to drive housekeeping efficiency and quality improvements.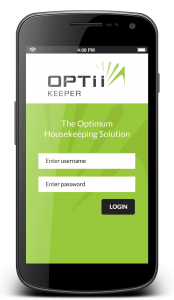 As GuestCentrix PMS receives reservations and changes in booking details, OPTii dynamically re-orders the importance of each room clean. Room attendants know what room to clean next, which is available to be cleaned, and what to do in terms of cleaning sequence, extra jobs, and guest preferences.
"Housekeeping labor represents the largest single variable cost for most hotels, resorts and emerging hybrid hotels" John Richards, vice president of business development for OPTii said. "We are really excited about offering GuestCentrix's clients an effective solution to help them gain greater control over this critical expense line in their operations."
About OPTii
OPTii Keeper consistently delivers cost reductions of several times the cost of the system, by focusing on three key area: Communications, Quality, and Labour Management. OPTii provides solutions geared to deliver productivity improvements, quality increases, training enhancements, and an overall more structured and efficient operation. Backed by investment from Select Venture Partners, Camber Creek, and HOF Capital, the company supplies large international hotel clients throughout Asia, Australia, Europe, the Middle East, Africa, and North America.
About CMS Hospitality
CMS Hospitality has been providing software solutions for more than 30 years. The company's GuestCentrix software solution is a proven multi-property hospitality system with clients ranging from small backpacker properties to 5 star resorts with over 2000 rooms, and accommodation groups of up to 100 properties. GuestCentrix can be found installed in more than 25 countries globally with installations in Australia, New Zealand and the South Pacific and across Asia in Hong Kong, Malaysia and Thailand and thru into Europe, the UK and North America.