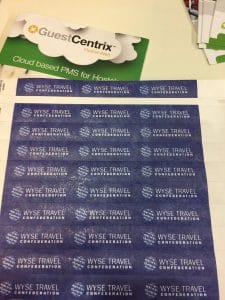 Another year at the biggest travel trade fair in the world. Another pair of shoes ready to be binned somewhere between Hall 4.1 and hall 22. Every year we all seem to be fit and ready and every night after a full trade day the same comments seem to flow. Feet hurt, tired, hungry, thirsty and so on.. on a fun note it is great to meet first timers at the end of a trade day. Facial expressions can vary but often tell the story of a marathon runner one mile from the goal line.
What added extra excitement to this years event was the strike action at Berlin Airport on big travel Friday and the subsequent rail & road Euro trips that stage dived into travel diaries well into the weekend. I hope you got back to your destination safe and sound?
Back to this years event, big applause first of all to the organisers in general. It was from my view a safe environment across all halls, visitors could get in and out fairly rapidly and apart from a taxi at 1800 around the fairgrounds it was pretty seeming less to get to your dinner dates and other super events across Berlin.
Amazing to see the shift from year to year across the halls, much more space to sit, talk, share and be inspired. sound and A/V at the multitude of great panel discussions and presentations just worked, at least the ones that I managed to attend. Some great new features in our beloved travel industry, so many futuristic novelties coming through that it would be unfair to mention a few as all was great in their own right.
The travel tech industry is in simple terms WOW….. so much, so great, so innovative, so useful, so very hard to make the correct choices if you are a newcomer or planning to open a new business looking for tools. Great it is in any case for the user be toned visitor.
Hall 4.1 for youth travel was amazing this year. The vibe and the Buzz from numerous great leaders, CEO's, COO's, MD's, Business owners and the huge amount of participants just made it a hall full of it. There were so many synergies, coffee get together's and meetings happening at the same time while presentations where airing through the hall mixed with a bit of laughter and some music it was just touching all your senses at once. Youth travel has and really is going from strength to strength across the board and the presence of some very big players in the hotel sector passing through every now and again just proves my point that the awareness is very much present in the traditional hotel industry of the "little brother".
Hostels on the other hand are well and truly represented in numbers, and the awareness of optimising your digital presence with the vast opportunities available is getting through to the the right people. When it comes to choosing your right travel tech supplier in terms of inventory and rate management there is still some way to go, there is a small element of fear for change out there that blocks optimisation and opportunity. It is fully understandable but with suppliers of PMS solutions like GuestCentrix that not only will install and help you migrate over to your "new world" but also have a full understanding of your pain points and the energy and time to look for solutions, partnerships with other vital players that can link you to growth on a short & mid term basis you become more than just a ticket. You become the owner of the process and you sit suddenly inside a top tuned racing car where each lap around your near markets and competitor set circuits means an increase on your bottom line with less efforts.
From a cost perspective I guess it makes a genuine business case worthy of some thought that a software that does the hard work for your property be it a hostel, apartment, student accommodation or in deed a hotel should not just be judged on the price you happen to be given on any proposal but more so on functionality user specific for you and your requirements not just for today and for tomorrow but also for the the years to come. Maxing out today does not mean that in 2-3 years it looks like that! One of the reasons being is that your current captive audience may have gotten married , had kids or perhaps have turned on you as happy "Glampers" with their own luxury mobile home enabling them to freely choose where and when looking away from your rate strategy, budgets and sales planes leaving the next generation to do that. I have still to see a consolidated guarantee that the next youth travel generation will behave exactly like the current one.
Action required! ( For the good of you and your revenue potential)
Get your unit in shape now with a solution like GuestCentrix adding all the extra benefits to your PMS enabling you to take ownership of guest management, CRM, accounting features, POS, @messaging direct, revenue management and other great options all under one roof.
Forget your fear of the past and change it to joy and opportunity for the future.
Let our specialist team help you draw up the road map.
Plan your migration as per current agreements you may have that needs to expire as the optimal time window for change only you can decide.
Plan the user training ahead so that your team gives buy in from the word go.
Understand what you want delivered from the process, that way you get more out of your new PMS.
Start to look at what your great teams can do for your guest experience once they start to have more time on their hands as your software is doing a huge time saving job for you.
Pitch to yourself that a optimising tool pays it self if used right I.e not a huge cost factor to count in.
Manage your group business in a new and more efficient way.
Plan your next holiday as with a good executed strategy and a well performed migration you will be able to relax a little bit more.
To wrap up I would very much like to send a special thank you to the WYSE Travel Confederation. David & Laura and all the fantastic colleagues at hand all day long + a special mention to Pieter and the Hans Brinker team (Amsterdam & Lisbon) should you not know, for tying all the knots together and make this such a great event.
Thank you all.
Dan Jakobsen
Director Of Sales Europe & UK
dan.jakobsen@cmshospitality.com
| mob: +44 (0) 777 216 6218
| dir.: +44 (0) 118 948 5634