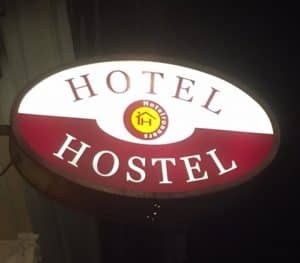 A property management system (PMS) is a major benefit to any hostel – but your requirements may vary if yours is a hostel chain.
This is usually the point at which free or cheap PMSs really designed for motels or guesthouses prove to be insufficient. As you sift through your many options, make sure to ask for these advanced features in your hostel PMS.
1. In-depth reports
Your hostel PMS should give you all of the detailed information you need to make actionable decisions – allowing you to export the information in the most convenient way (pdf, Excel sheet, and csv file).
Some basic reporting features it should have include:
Number of beds and number of rooms available

Availability forecast for next week/month

OTA commissions

Group bookings and revenues you have in the pipe
Secondly, your hostel PMS should be packed with market segment reports that help you understand which booking sources are most effective.
You should be able to see room nights, nett accommodation, average rate statistics (past dates) by market segment – then drill down into these stats by booking source.
All of this data should help you understand how to structure or tweak your distribution strategy.
2. Revenue management capabilities
Your hostel chain's PMS should support integration with a channel manager to ensure you maximise profit at all times through all available booking channels.
You should be able to manage rates across all online travel agencies (OTAs) – this is useful because you need a quick way of executing your distribution strategy. You need to be able to react quickly to market demand with minimal effort.
Coupled with booking source reports, you'll be able to figure out which channels are most profitable for your hostels.
3. Central reservation solution features
Hostel chains are starting to follow what hotel chains are doing by using a central reservation system (CRS).
The benefits are plenty:
All reservations are housed in one central database.

Data is sent to the property management system for operational purposes.

All the hostels share guest records – this gives a guest a consistent experience when staying at different hostels under the umbrella.

You can more efficiently price and market your hostels.

If your PMS has ancillary revenue streams, you can do modeling and focus on total revenue per average bed (tRevPAB) instead of yield.
Centralisation is what can take your hostel chain to ensure alignment and take your hostel to the next level. Use the data to better understand your ideal guest and create targeted marketing campaigns. You can hire just one marketing manager, one revenue manager and one sales manager for all your hostels.
A system like GuestCentrix Hostel.Web has all of the above capabilities, and more. Click here to learn more about how GuestCentrix can drive revenue at your hostel chain.