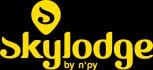 13 September 2018
CMS Hospitality takes great pleasure in welcoming Skylodge to the GuestCentrix family.  Skylodge, based in the beautiful ski resort of Piau Engaly in the French Pyrenees, opens for business on 21 December 2018, just in time for the first snow fall of the season!
This stunning new 290 bed property offers bars, restaurants and a fabulous rooftop terrace with a 360-degree view of the surrounding mountains – a great place to unwind after a day on the piste or a summer hike. Or perhaps some chillout time in the Sauna is more your thing?  A mix of private rooms and hostel dorms will offer additional storage space including ski lockers.
Skylodge will be using GuestCentrix Hostel.Web PMS, GuestCentrix Point of Sale and GuestCentrix API's to link directly to their booking engine, all hosted in our secure cloud environment.  GuestCentrix will also be providing an interface for Self-Check In and the whole property will work as a 'cashless' environment with guests being able to top up their 'SkyLodge Card' via a secure web login.  This card will work as a door key and cash card across the estate.
Alex Wigmore, Sales Manager, CMS Hospitality – 'This project has been a long time in the making and Camille and the team's enthusiasm and vision have pushed our development team, lead by Colette Lonie,  to create some great new innovations which will lead to a unique guest experience.  We very much look forward to the first guests checking in before Christmas and exploring this beautiful part of Europe.'
Camille Queinnec Moubeke, General Manager, Skylodge – 'Skylodge is an innovative project that required work with many different partners. With CMS Hospitality, Alex and his team were central in making the project achievable.  We chose CMS Hospitality as for us, the key was to find an adaptable partner who were competent at meeting our specific needs and unique developments'.
Please visit the Skylodge website at https://www.skylodge.fr for further information and contact sales@cmshospitality.com if you would like to discuss your PMS requirements.