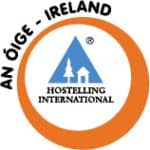 Ireland's leading provider of budget backpacker hostel accommodation, An Oige (Irish Youth Hostel Association), has selected GuestCentrix from global hostel software supplier CMS Hospitality, to power their 24 hostels located around the Republic of Ireland.
An Oige has hostels situated in the best locations in Ireland, providing great value for money and known for having the friendliest staff in the industry.  With a desire to take their properties to the next level An Oige has selected GuestCentrix Hostel.Web PMS which will provide an integrated CRS & PMS solution to all properties. As a result An Oige will be able to improve revenue management, service guests more efficiently and also build up a valuable guest database for future domestic and overseas marketing campaigns.
Richard Holman, Installation & Support Manager for GuestCentrix, said: "We are very pleased that An Oige has selected GuestCentrix Hostel.Web as their new reservations platform. The fully cloud based hostel management system will be easy to learn from day one for An Oige's front line staff which is most important in a project of this size. At the back-end we have a powerful revenue management engine that will provide a variety of great options to An Oige as they continue to refine how they service their direct, OTA and group business."
Roy Murray, An Oige Marketing Manager explained: "Our network of hostels in Ireland is very diverse. They range from traditional youth group hostels to luxury franchise properties to volunteer led buildings in remote places where the welcome is more important than the WiFi. GuestCentrix was the only system we found that could cater to all our requirements while also allowing us to manage inventory centrally. GuestCentrix Hostel.Web will allow us to streamline our reservations, marketing and accounting procedures and ultimately reach more young people through our online channels.
A project like this is daunting for a not-for-profit organisation like ours but we are very impressed in the experience GuestCentrix has from working with other hostel organisations and we are looking forward to the roll-out."
About CMS Hospitality
CMS Hospitality has been providing software solutions for more than 30 years.
Our GuestCentrix software solution is a proven multi-property hospitality system with clients ranging from small backpacker properties to 5 star resorts with over 2000 rooms, and accommodation groups of up to 100 properties.
Following our mantra of "Profit, maximise and simplify" we have helped our clients to become more profitable through better information available to them, maximise their revenues by ensuring the best rates are sold on the right day, and simplify their business by offering a software solution which is easy to use easy to learn and easy to navigate, and overall is intuitive.
GuestCentrix can be found installed in more than 25 countries globally with installations in Australia, New Zealand and the South Pacific and across Asia in Hong Kong, Malaysia and Thailand and through into Europe, the UK and North America.
Media Contact
Duncan Waterman
duncan.waterman@cmshospitality.com
Phone +61 (0)430 274 176