The hospitality industry is continuously growing, bolstered by the accessibility of travel to more people. Even if forecasts in the UK are conservative, authorities still predict growth for the industry. According to PwC UK, hotels based in London project a 0.3% boost to the revenue per available room, placing the RevPAR at £122 this 2019. Meanwhile, hotels in the provinces will have a 1.2% gain with a RevPAR of £55.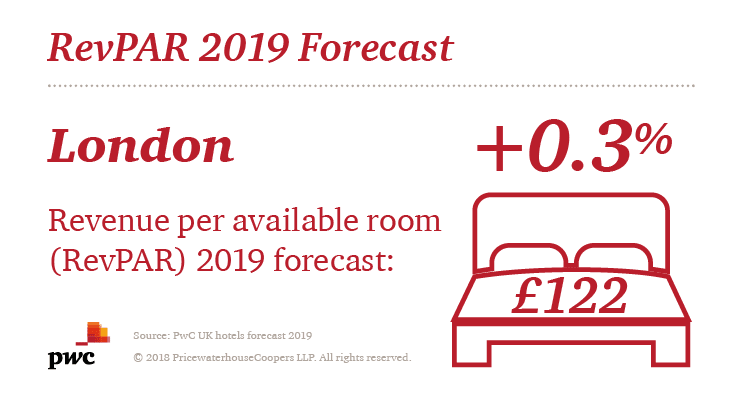 PwC shares that London hotels are forecast to have a 0.3% gain in their RevPAR.
Regardless of the forecasts made by industry authorities, you could bolster your business with intelligent hotel analytics. This can help you attract more guests, as you have greater online visibility of room and facility availability. Apart from that, you can keep your finances going steady or stronger with helpful financial tools and features. Additionally, you can ensure that guests' satisfaction is high by giving them enjoyable stays in spic-and-span rooms. You can make all these and more possible by figuring out what software your hotel needs.
Curious? Read more about how hospitality software can change your business. 
Increased occupancy 
The online travel market is a booming industry, having $564.87 billion in sales worldwide, as reported by Statista. Travel e-commerce sites and review sites especially have a huge role in this, as people can book lodgings directly with hotels, inns, pension houses, and more online via their website or through an online travel agency (OTA).
Speaking of booking directly with the hospitality establishment, to enable this, a property must have a reliable hospitality software with an online booking engine to garner more reservations. This would also result in more savings, as you would not have to pay commissions to a physical or online travel agency.
But first, you have to ensure that your reservations page is interactive–that it shows dates when there are rooms available and which rooms are open for booking. This way, guests can find accommodation that suits their fancy or needs best without having to call the lodging. Not only is that convenient for them, but it is also advantageous for your receptionist as they could focus on receiving guests instead. Additionally, the visibility of open rooms and dates can increase your occupancy because guests can adjust their travel plans to stay with you.
Seamless event management
Though hotels are designed for rest, they have branched out to events as well. In some cases, there may be a separate solution used to manage facilities for different affairs, which means that property managers have to juggle different windows throughout their working hours. That is something that can be fixed, though, because you can handle them on the same interface as your hotel rooms with a robust online hotel management system.
It would have a module dedicated to room reservations and for their management and another one for overseeing facilities and events. The latter one would assist you in handling the schedules of events in halls. This would show you when there are conferences, celebrations, and the like to make sure that you can provide guests the best options.
Most importantly, it would help you in ensuring that your staff would have enough time to prepare and clean up in between. Thus, you can make sure that guests hold the events that they imagined. 
Higher revenues
The performance of a hotel or any other kind of lodging is usually based on the revenue per available room or RevPAR for short. The management can calculate this by multiplying the average daily rate with the occupancy rate. PwC reported that, in 2018, the average RevPAR of hotels in London is €133 though it trails behind Paris, Geneva, and Zurich, with RevPARs of €176, €170, and €143, respectively.
These numbers could be similar to your number, higher, or lower. And if you want your current number to increase, you do not have to look farther than a hotel property management software to help you raise it.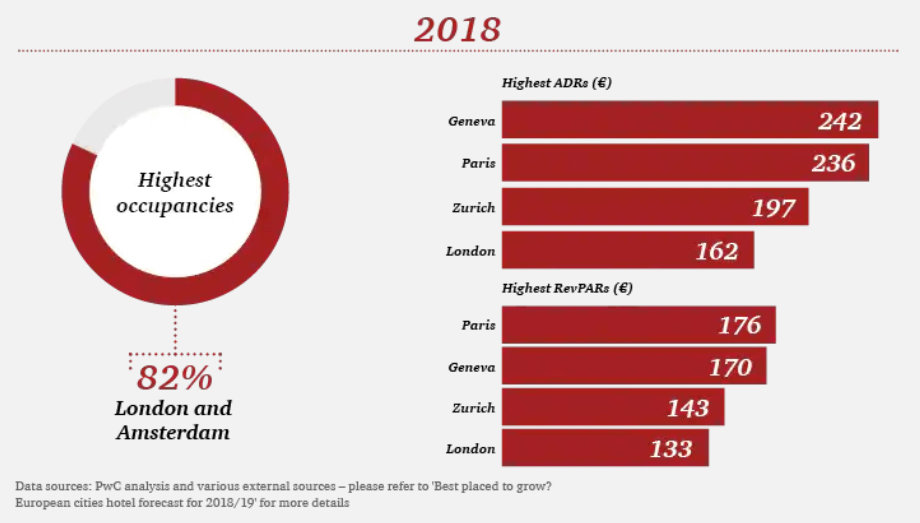 London hotels had a RevPAR of €133 in 2018.
Certain hotel solutions have revenue management features. These allow you to adjust your daily rates depending on the demand or season to increase your RevPar. But while doing that, it can also aid you in assessing whether you are pricing your rooms wisely. If you are, then you can retain your existing pricing scheme. If you are not, you may want to execute strategic changes to attract more guests, especially millennials. 
Robust finances
Despite what could be a steady income, hotels can run into financial problems as well due to debtors failing to pay their dues on time. This is something that an accommodation has to avoid to continue operations and even to enhance the services and experiences on offer. To do that, you need a full-featured Accounts Receivable module that would show you how many debtors you have, how much they owe you, and how long has the debt been standing.
This would give you the insights you need to better manage your finances so you do not encounter cash flow issues and for hotel cost reduction as well. Furthermore, this would help you make your debtors accountable for you to avoid bad debt that could be detrimental to your financial health.
Apart from that, there are other features like integration with a General Ledger. With this, you can have a comprehensive view of your financial records, including debit and credit that are verified by a trial balance. 
Enhanced cleanliness
Cleanliness is a premium in hospitality and even more so when new guests are hot at the heels of those who have just checked out. This would require smooth communications between the housekeeping team and the front desk to make sure that everything is ready and tidy for the occupation of other people. If the cleaning process takes a long time, it could affect the satisfaction of guests and their rating of the hotel.
With a resort management software, there would not even be a need for the reception desk to phone or alert attendants themselves when a room becomes unoccupied. Instead, they only have to make a few clicks on the software for property management, which would assign an available housekeeping staff to a room. It would also be possible to select the cleaning type needed for certain rooms. And if they had been unoccupied for even a short period, managers can schedule the clean-up of rooms regularly for them to be ready for occupation at any time. 
Making guests and staffs happy
Worldwide, the travel and tourism industries have a huge economic impact, considering that there are many travelers from different countries who are willing to spend a lot during their sojourns abroad. It is not just on food and beverages and material items–they also do not scrimp when it comes to a hotel where they can rest comfortably.
To accommodate these travelers, hotels need to step up their game. They can do so with a hospitality software. It is designed to streamline the management of various hotel processes from room booking and cleaning to facilities and events and even backend procedures like financial management.
The staff, of course, have to be familiar with its tools for the solution to be maximized and for them to contribute greatly to the seamless operation of your hospitality business. It would also reduce the burden on them, as they would no longer have to do everything manually since a hospitality application would have automation capabilities, such as the assignment of a housekeeping team member to a room.
Through the continued use of a hospitality solution, hotel employees become more productive and efficient as they get into the rhythm of using it. Because of this, they become better equipped to serve guests or, at least, to contribute to their overall experience at the hotel.
CMS Hospitality holds over 30 years of experience in delivering hospitality software solutions. GuestCentrix offers the most complete solution in hospitality software, whether you're running a hotel, a resort or a hostel. Our highly experienced support and installations team holds a unique understanding of the hospitality industry and will aim to provide software that suits your property's needs.
Call us today at (+61) 2 9440 9711, or email us at sales@cmshospitality.com. We will be happy to guide you to the GuestCentrix solution that's right for you.