Dan Jakobsen joined the GuestCentrix team 3 months ago to drive the new cloud & fully browser based Hostel.Web Property Management System further into the European market.  Our new marketing intern Mary caught up with Dan recently to get to know him a little better and obtain his thoughts on the hybrid hotel & hostel market after his first 90 days.
GuestCentrix: Thank-you Dan for joining us today.
Dan Jakobsen: My pleasure.

GC: When you opened Generator Hamburg what surprised you most about the hostel industry?
DJ: I went from hotels to hostels for the Generator Hamburg opening. What surprised me the most was the fact that even if you pump 40 million Euro into a building equipped with top notch facilities guests are more impressed with the social aspect of talking to somebody local or meeting other travellers.  Local flavour is what most hostels guests search for. Fancy F&B offerings versus a simple BBQ in the terrace and more personal interaction is still the big hit.
GC: What are the main challenges facing hostel owners this summer?
DJ: Some hostels operators have got it nearly right but others are still in the search of optimal maximisation on their inventory and rates. Here the correct tech tools comes into play. Also correct understanding and management of these tools is a challenge to some operators due to staff changes or lack of training. One other major challenge this year is lead time for bookings. It is all in the hand of the booker how far in advance and at what rate is taken and that can make it hard to forecast and meet the forecasted figures. I guess a too aggressive rate strategy means that base group business in the end is turned to competitors and occupancy faces a last minute rush on pick and pace.
GC: You are talking to a lot of hostels & hotels in your current role, what do you hear them say about their direct booking strategy?
DJ: All operators want more direct bookings but find it very hard to achieve the shift from expensive OTA bookings to direct business. Some websites are simply not equipped for the shift and some hotels & hostels simply do not have  the right PMS & channel manager in place to make the shift. That is where GuestCentrix with the team of experts can help with strategy advice to partners when they choose us for their travel tech.
GC: Tell us about the best hostel you have seen since starting with GuestCentrix?
DJ: Hands down the Circus Circus Hostel in Berlin followed closely by Jacobs Inn in Dublin.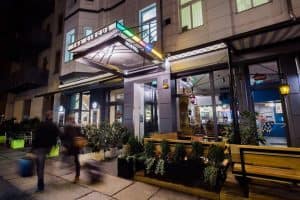 Above, Circus Circus Berlin. Below Jacobs Inn, Dublin.


GC: After 5.30pm and on the weekends what do you do to relax?
DJ: This is not a 9-5.30 job and from time to time we go above and beyond for partners but family time after a great day talking to European hostels & hotels makes me happy. A few beers with mates keeps the balance great….