12 August 2018
Boomworks was formed as a user-centred design practice over fourteen years ago, pioneering a customer focused design approach to delivering digital solutions to many of Australia's largest companies and organisations as well as various state and federal government departments.
We believe intelligent platforms, services, products and interfaces are made better at anticipating individual's needs by removing clutter and enabling action, so customers can just get things done – when, where and how they want to.
As a small and agile organisation, Boomworks has maintained a forward-looking view to how people are using technology and how business needs have changed, to deliver smarter solutions. Our goal is to design solutions to the complex, disconnected experiences that people have when interacting with businesses and their services to deliver intelligent, individualised experiences.
Through our engagement with YHA Australia to design and develop their online experience, Boomworks has been working closely with CMS Hospitality since 2012.
YHA Australia have been using the GuestCentrix Hospitality Software platform since 2008 in order to bring the best possible experience to their customers, integrating as seamlessly as possible with the platform was an important component of ongoing website designs and development opportunities.
The Boomworks and CMS-H teams were able to work closely to ensure various features and functionality within the software platform could be leveraged via various interfaces, providing customers with appropriate real-time booking capabilities and hostel operators with accurate reporting and management features, all within one interface.
The flexibility of how the online system and GuestCentrix software can integrate enabled the development of multi-lingual interfaces and fully responsive and optimised site experiences over the past 10 years.

As the GuestCentrix Hospitality Software platform continues to be adopted by a number of member organisations of the global Hostelling International network, Boomworks undertook the development of a more standardised Booking Engine Platform. The integration of this platform with GuestCentrix provides a modular and uniform approach to providing secure online access to the features of the hostel management system, enabling real-time bookings via a direct sales channel.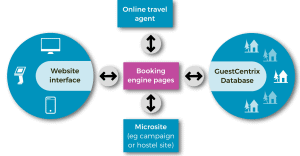 In an increasingly competitive online sales environment, the ability for Hostelling International member organisations to have control over how they take their product to market, how it's promoted, sold and managed is critical. The combination of the features of the GuestCentrix Hospitality Software integrated through the new Booking Engine Platform has created the ability to deliver a number of advantages in a sales channel under each member organisation's control.
A few of the integrated Booking Engine Platform benefits delivered to member organisations include:
• Vast reduction in manual processing of bookings resulting in less duplication and booking errors, improved customer satisfaction and redeployment of front desk staff.
• Less duplication of data entry and reporting as booking data is centralised.
• Booking process can be more easily integrated with Hostel specific microsites, providing greater exposure and targeted marketing opportunities.
• Agent portal functionality to allow expanded sales channel directly within the organisation's control.
• Facilitates the implementation of a fully integrated solution for handling specials, promotions, membership etc. in addition to core booking functionality.
• The fully responsive presentation layer of the booking interface enables the broadest reach to customers across a range of devices.
With the integrated Booking Engine Platform currently in place for HI USA, YHA Australia, An Óige (YHA Ireland) & YHA New Zealand the ability to roll out upgrades across these organisations is also greatly improved. A shared development strategy is being put in place to enable member organisations with common business requirements to create additional functionality, customer features and management interfaces through the Booking Engine Platform, leveraging the common architecture offered by the tight integration with each installation of the GuestCentrix Hospitality Software.
It is through the close working relationship between Boomworks and CMS-H established over many years of working together that we have been able to create an online solution to provide the Hostelling International member organisations a customisable direct sales channel that delivers a great customer experience with the robustness and reporting of the underlying GuestCentrix software.
The success and ongoing development of both the Booking Engine Platform by Boomworks and the GuestCentrix Hospitality Software platform by CMS-H continues to gain interest from Hosteling International member organisations across the Americas, Asia and Europe.
For more information, please contact:
CMS Hospitality
sales@cmshospitality.com
Boomworks
hello@boomworks.com.au